Almost every gal I know that's in her 20s-30s has a love affair with Anthropologie. And who wouldn't? They have ridiculously cute stuff and everything has that "you will feel unique if you wear this" vibe, even though it's mass produced. Not only that but everything is expensive so it feels super fancy. When my husband really likes something I wear/make, he'll say it looks "very Anthropologie." And then I hug him.
So I went to our almost-totally-moved-out-of-has-very-little-food apartment and lo and behold, there was the new Anthro catalogue in the mail! Yum!
One of the things I love about Anthro is it is so darn cute and styled, and it totally inspires me every time I go into the store or open one of their mailings. It's just great. So I'm pretty much going to show you lovely readers a few of the things that stuck out to me today.
First of all, bathing suits. I love bathing suits even though I totally hate shopping for them or wearing them. Weird? Yes. But I love that they represent summer and fun and when they really start to hit the stores I get all giddy about sunshine. When I was a size 6 I was quite inclined to wear bikinis. Now that I'm not size 6 (ahem) I am much more comfortable in one-pieces, which I think can be a bit more adult anyways. So I was looking at bathing suits and I started to wonder.... could I sew a bathing suit? I have a perfectly good machine. My mom made herself a bathing suit (and one for me!) so I know it can be done. So I'm considering trying it out this summer. Here are two that I am loooving. I'm hoping I can replicate this sort of thing.
First of all, the cute tropical one. This reminds me a ton of a bathing suit I had when I was a kid.
Of course, the bathing suit I had as a kid was not nearly as low-cut as this.... I probably would make it three inches higher so it was still va-va-voom without showing my entire side boob. Just sayin'.
Oh yeah! How hot is that??? You can show a little bit of skin or a LOT of skin. I love it! Both ways are very cute. I like the ruching on the sides as well. Obviously I would not look at teeny-tiny as these gals, but I think the suits would work pretty well with my curves.
Here is a super cute curtain that I will attempt to copy in my own way: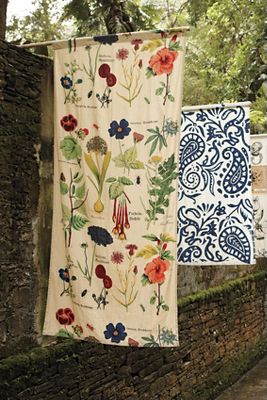 Okay, all of those curtains are fairly cute but the one I am speaking of is the botanical one in the foreground. I love the idea! I wonder if I could print something similar on iron-on transfer paper and just iron it on some of the gauzy sheets I have at home. I had two identical curtains that are sort of a gold color. Wouldn't something like this look cool on it? I would consider using field guide illustrations of birds instead of flowers, because it reminds me of my dad and my grandma, who both had Sibley bird books.
How delicious is this photograph?
Ohhhh so tropical and beautiful and can I sleep under the stars please? I know I will this summer. Waking up under the aspens or on top of Shadow Mountain, like I did that summer. Fantastic.
The photos in this catalogue are FANTASTIC. They reminded me very much of the ruins at Lamanai in Belize, but not nearly as ruinous. According to
EffortlessAnthropologie
, they are actually taken at Las Pozas de Xilitla, Mexico, and are "a creation of English millionaire Edward James as a tribute to surrealism." Amazing!!! I highly suggest Googling it.